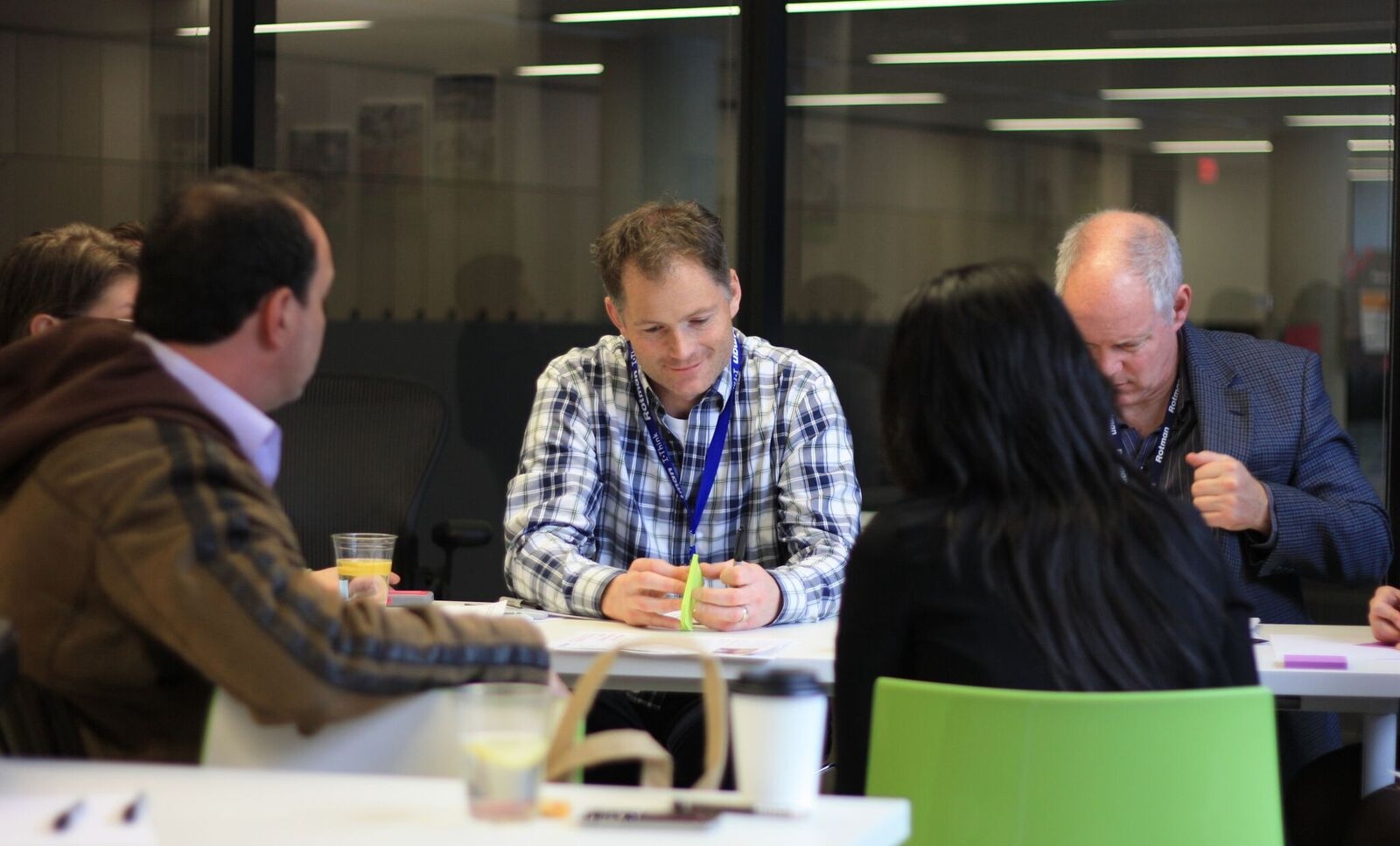 Essentials for Educators: Integrative Thinking
Join colleagues across grades and subject areas to explore the "how" of bringing 21st century learning to life. This one-day hands-on program introduces the pedagogy of Integrative Thinking and provides the foundation to bring it into your classroom (on Monday!).
Innovation in our pedagogy has only been possible because of educators like yourself who apply Integrative Thinking in new ways. As a participant, you will:
Explore insights behind how we think and problem solve that led to the creation of Integrative Thinking

Attend workshops led by K-12 educators who have been using Integrative Thinking in their practice

Explore how you might use Integrative Thinking in your own classroom and school

Hear from students who have been focusing on metacognition and creative problem solving in their classroom learning
Your Crash Course in Integrative Thinking
In the morning, we will be focusing on learning the Integrative Thinking process for problem-solving. In the afternoon, educators in the I-Think community will be leading workshops on additional tools of the Integrative Thinking toolbox and sharing how this work has come to life in their classrooms and schools.
8:30am – 10am Introduction to Integrative Thinking
Grab a cup of coffee – or tea – for this introduction to Integrative Thinking. We'll share stories highlighting the thinking behind it in action and explore why metacognition is so difficult for our students (and adults, too). Watch a 3-minute animated introduction to get a sense of what we will be delving into over the course of the day.
10:00am – 11:30am A Process for Problem Solving
We'll run through the Integrative Thinking process for problem-solving, co-led with teachers and leaders in the I-Think community. This framework offers a structure for students to think through wicked problems while relying on their thinking and insights to imagine new possibilities. We'll use an education case study to bring the process to life. See Jennifer Warren go through the process with her students in these videos.
12:30pm – 1:00pm In Their Own Voice
You'll hear from students about the most significant changes they've seen in themselves and their learning since using Integrative Thinking. Listen to high school students, Margaryta and Meet, reflect on their learnings with Roger Martin.
1:00pm – 2:45pm Choose Your Own Adventure
Teachers and leaders will run workshops on tools from the Integrative Thinking toolbox, and how they've been incorporating them into their classrooms and practices
2:45pm – 3:30pm What's Next?
You'll use this time to imagine how you might play with the tools in your practice. We'll also share upcoming programs, including our first annual Reunion, which will you help you deepen your practice and build community.
Join us in becoming learners and innovators in pedagogy, and be inspired by educators who have brought Integrative Thinking to their classroom. You'll leave the day with concrete ideas for applying Integrative Thinking to your in-class and leadership and practices.
Schedule
8:30 – 10:00 Introduction to Integrative Thinking
10:30 – 11:30 A Process for Problem-Solving
11:30 – 12:30 Lunch
12:30 – 1:00 In Their Own Voice
1:00 – 2:45 Choose Your Own Adventure
2:45 – 3:30 What's Next?
When
Tuesday, April 2nd, 2018
8:30am - 3:30pm
Where
Rotman School of Management, Desautels Hall
105 St. George Street, Toronto, Ontario
There is underground parking at Rotman and street parking in the area. We recommend taking public transit, as we are close to several routes. We are approximately a five minute walk south of St. George subway station, a 10 minute walk north of the 506 College streetcar and one minute north of the 94 Wellesley bus.
Fee
Early bird registration fee is $195 plus HST until March 1st, 2019.

The regular registration fee is $225 plus HST.

Registrations includes all materials, a light breakfast and lunch.

Many participants learn more by coming in a group - discounts are available for groups of five or more. Email us at I-Think@rotman.utoronto.ca.