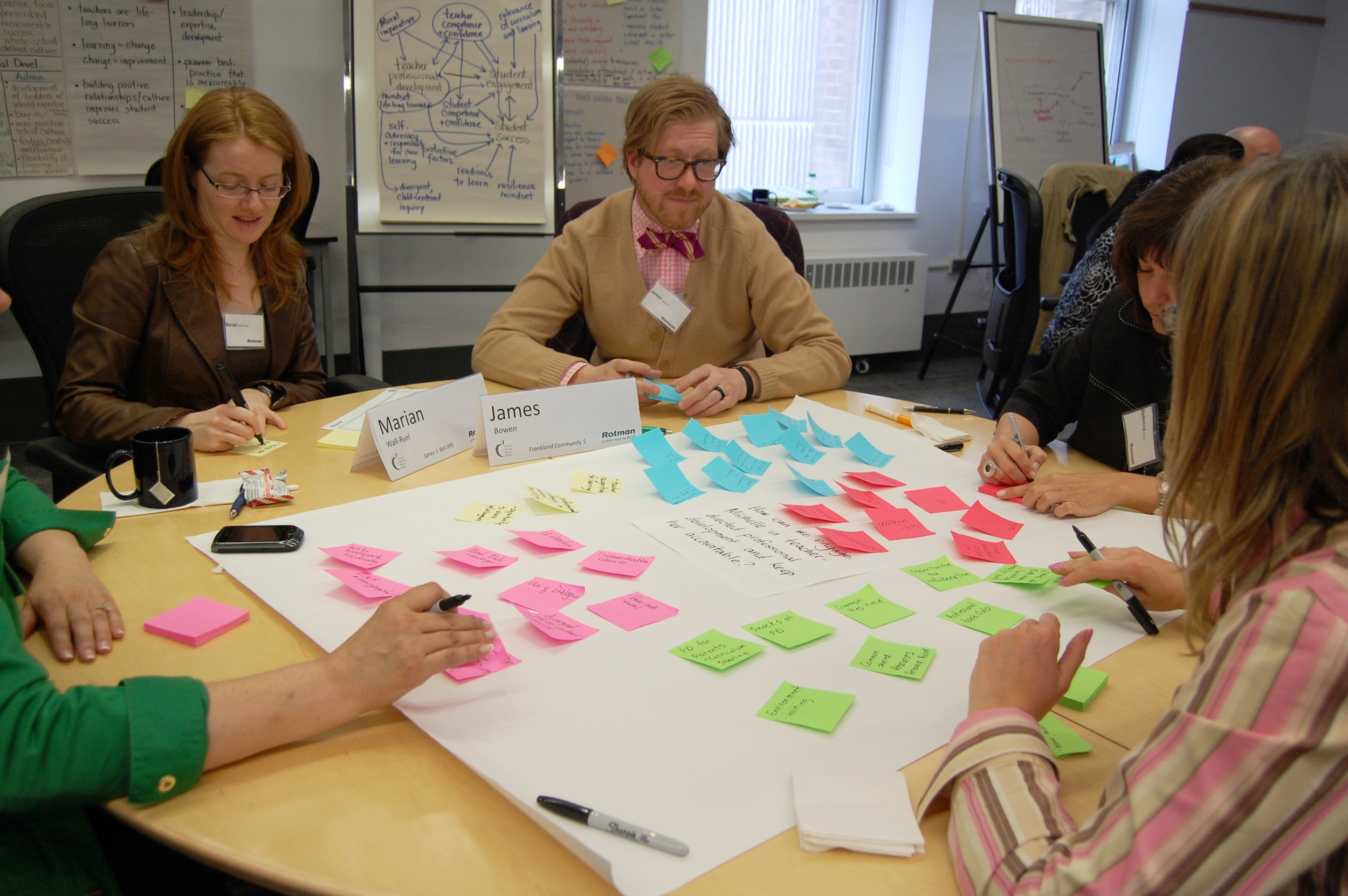 Educator Institute: Integrative Thinking in the Classroom
This institute provides tools to both broaden student approaches to problem-solving and help them seek out new perspectives when faced with difficult choices - both in and out of the classroom. Participants will see themes of equity, well-being and global competencies to create the conditions for student learning.
As a participant, you will:
Learn the theory and tools of Integrative Thinking that:

Help make our thinking explicit
Enable creativity through design principles
Facilitate better collaboration

Explore how you might use integrative thinking in your own classroom and school
Collaborate with other educators from across grade levels, subject areas and schools
Have an opportunity to create more innovative solutions to your own personal and professional challenges
Be inspired by educators who have brought Integrative Thinking to their classrooms
Participants will be both learners and content developers, and will leave the institute with practical ideas for in-class application of Integrative Thinking material.
Playing with a Suite of Tools
In this three-day program, you'll learn the tools in the Integrative Thinking toolbox by using them and develop ways to use them in the classroom. K-12 educators in the I-Think community will join us throughout the week to share their work and insights.
Day 2: Bootcamp for Thinking
We think in models, but take action as if they are the only knowable reality. With neuroscience as the basis for understanding how our brains create mental models, the goal of this day is learn tools that can help us make our thinking explicit to ourselves and others. By building the skills to make our thinking explicit, we give ourselves the opportunity to play with our thoughts: expand them, adjust them and make them more robust, which means that we can enable better collaboration and comfort with complexity. Causal modeling and the Ladder of Inference are tools of Integrative Thinking that support building the necessary skills for creative problem solving.
Day 1: Introduction to Integrative Thinking Process
Day One is an introduction to the foundational frameworks and logic behind Integrative Thinking. It is also an opportunity to gain practice exploring the tension between opposing models – to help students move away from simply evaluating options, to working with complex choices where they understand the importance of considering choices and leveraging them.
Day 3: Exploring Creativity
Integrative Thinking is an approach to problem solving that endeavours a better answer, moving beyond tradeoffs. Core to imagining better answers is creativity. The focus of this workshop day is to explore how every student (and person!) has the potential to be creative. The tools offered during the session offer concrete ways to dig deeper into our models, visualize our thoughts and discover new connections. To bring the Integrative Thinking in the Classroom experience together, teachers bring their creativity to bear by imagining new experiences for their classroom using the tools of Integrative Thinking.
When
Monday, August 27th - Wednesday, August 29th, 2018
8:30am - 3:30pm program, light breakfast at 8:00am
Where
Rotman School of Management
Room TBD
105 St. George Street, Toronto, Ontario
There is underground parking at Rotman and street parking in the area. We recommend taking public transit, as we are close to several routes. We are approximately a five minute walk south of St. George subway station, a 10 minute walk north of the 506 College streetcar and one minute north of the 94 Wellesley bus.
Fee
Early bird fee until June 1st, 2018 is $595 + HST.
Regular price is $649 + HST.